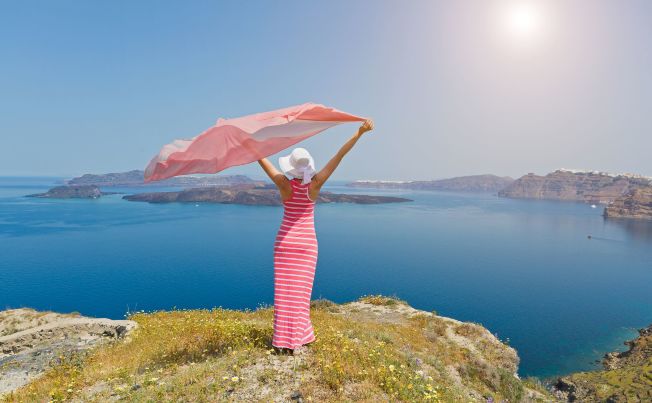 10 Greek Foods Considered the Healthiest in the World
Read All Our News Below
Follow our blog and learn about Greece, its culture, us, our clients who like to share their moments and thoughts with the world and any news with regards to Asimina Tours.
Enjoy and stay in touch!
10 Greek Foods Considered the Healthiest in the World
You have heard of the Mediterranean Diet, right?
We have gathered for you the top 10 Greek foods that are considered the healthiest. When you travel to Greece try to make it a point to sample each one of them!
Olive Oil - The first and most important of all Greek superfoods in the green-gold of Greece. The Extra Virgin Olive Oil has extreme antioxidant properties and protects against a range of diseases!
Thyme Honey - There are so many types of honey varieties in Greece. The best one is the thyme honey that has incredible antimicrobial qualities and its taste is out of this world!
Pomegranates - This fruit is delicious, juicy and jewel-like. Pomegranates are a good source of fiber as well as vitamins A, C, some B vitamins and minerals such as calcium, potassium, and iron. Try picking one off the tree when in Greece. They are almost everywhere....
Mastic from Chios Island - Chios island is one off the North Aegean Greek islands and is the home of the well known "mastic". This is a type of resin collected from the "Mastic tree" and its used a lot in gastronomy especially in desserts. You'll find Mastic gum used in other products as well such as toothpaste or aromatic soaps. Or try the famous "mastic liquor"
Dittany of Crete Island - This type of variety growing in Crete is very unique as Medical research has proved that this special type of dittany has great antimicrobial and antioxidant properties!
Dried Figs or Fresh Figs - Figs are rich in natural fiber and help in weight control and enhance the feeling of satiety. They also regulate blood pressure and improve ligament health thanks to their high content of potassium.
Greek Yogurt - You must try it in Greece! Go to a local supermarket and sample the Greek yogurt especially the ones sold in the traditional clay pots and especially the ones made from sheep milk. Greek yogurt contains valuable bacteria that has a positive effect on the entire digestive tract.
Walnuts - High in protein the main characteristic of walnut trees in Greece is that they are of great photosynthetic ability, which means that lots of sun exposure and suitable temperatures can lead to high-quality nut production. Given that the mountainous and semi-mountainous regions of the Greek land offer the appropriate climatic conditions and soil composition for walnut cultivation, the country finds itself among the top ranks of walnut cultivation globally.
Try yogurt with honey and walnuts an all-time favorite Greek healthy dessert!
Horta or Wild Greens - These are offered in many restaurants throughout Greece. They are typically boiled greens combined with olive oil and lemon. They are high in fiber and they include wild spinach, fennel leaves, nettles, poppy leaves, dandelions, purslane, amaranth, beetroot leaves and many, many more.
Greek boiled coffee - many have found the long longevity of the people living in Ikaria island is linked to the coffee brewed on the island. The coffee is rich in polyphenols and antioxidants and contains only a moderate amount of caffeine.