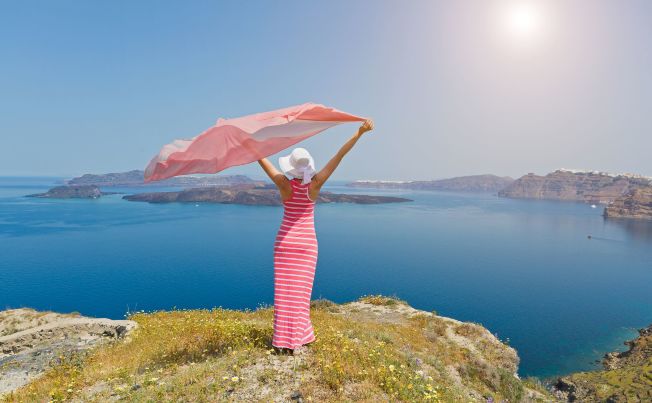 Read All Our News Below
Follow our blog and learn about Greece, its culture, us, our clients who like to share their moments and thoughts with the world and any news with regards to Asimina Tours.
Enjoy and stay in touch!
What is a Flying Dress?
What is a flying dress?
A flying dress is a satin gown that looks stunningly beautiful to photograph under natural light because of its high-sheen type of fabric.
By wearing such a beautiful dress, you will not only feel and look stunning, but you'll also take some of the best photographs or videos of your lifetime.
The flying dresses come in all sorts of colors. The sizes are one size fits all and are adjusted to your body type.
Santorini is the perfect island to do a "flying dress" activity. Typically the session starts early in the morning at around 8:00 am and it lasts between 1 to 2 hours.
It's best to do one to two dresses per person during that 1 to 2-hour time frame.
Usually, this activity is bundled in with your photographer and /or videographer, and the dresses are rented.
The photographer will have an assistant who will participate in throwing your dress in the air for that natural wind-blown effect.
When booking your flying dress (before your session), it's best to consider the type of poses that you are planning to take. Your photographer is there to help you, but it does make a difference if you practice your moves prior. Your dress will flow with the wind naturally but for even more interesting photos, use your hands to move your dress back and forth or up and down.
If you are with your significant other, have him participate by throwing your dress. This will make the perfect "couples" photo and it will be fun, romantic, and interactive.
To get to the various spots for your photoshoot, it's best that you wear comfortable shoes, preferably sandals, but your shoes will be off for the photos.
The best colors for a flying dress photoshoot are RED, BLUE, YELLOW, ORANGE, FUCHSIA
Want to see the flying dress experience is a short video?
Click here to see it on

FACEBOOK – FLYING DRESS VIDEO
LINKED-IN – FLYING DRESS VIDEO